Jeremy and I paddled out to Bonsai Rock from Sand Harbor in February of this year (winter is our favorite time to kayak Tahoe, because there are so few people out on the water), and we were astounded by all the garbage we could see on the lake bed around this fairly prolific icon on the North Shore. We made a decision to come back, when it was a little warmer, with snorkeling gear, and dive to remove some of it.
In early July we headed out with our snorkel gear loaded into our boats, and we dove for a couple hours before we finally got too cold. But with our little bags, and one snorkel dive at a time, we came away with this much garbage. There was still so much more, though!
When I posted the story on Facebook, I mentioned how I'd love to get a group of folks who were interested in going out, and try again, maybe this time with a couple actual divers. A friend of mine responded to let me know there was actually already a group in place that was planning a big Bonsai Rock cleanup. Awesome! Even better to join someone already established.
So on August 5, a group of divers, kayakers, paddleboarders and people who care all got together to make one little corner of Lake Tahoe a cleaner and safer place for everyone. This included a boat and staff from Tahoe Regional Planning Agency (TRPA), who stayed the entire day and hauled away all the garbage when we were done.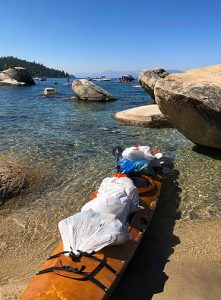 Shoreline cleanup started early, thanks to our friend Scott, who arrived at around 4:30 a.m. Of course some of that was for photography, too. But between him, Ann and Amanda (bound for college in Boston soon after) from Michigan, they collected 6 bags of garbage along the shore. I loaded everything onto my boat and turned it into a garbage scow for the afternoon. As I made my way to the TRPA boat, swimmers and people just out enjoying their day asked if they could add garbage they'd found. It was pretty cool to see so many people coming together to make this area safer and prettier.
All told, with about 20 divers and 6-8 kayaks and paddleboards, plus the beach cleanup crew, at the end of the day TRPA estimated between 500 and 600 pounds of garbage were collected. And this was just in the Bonsai Rock area. But I overheard the organizers talking about maybe turning this into a non-profit organization and expanding to do cleanup in other areas of the Lake, too.
I should note that a lot of this garbage was old. Like, pull-tab beer old. Now that this massive clean-up has happened, my hope would be that there could be maintenance cleans periodically and the Lake would be better for it. Of course it would be better if it wasn't needed at all …
Here's a video of the day's work, as shot by the drone.