Sure, some people, when they hear "storm in the Sierra" decide (perhaps wisely) that it's a good time to stay home and keep warm. We often decide to do the opposite, and so that's how today went. We made our way up the hill, through some pretty sketchy road conditions, but it sure was beautiful! I kept my early-on photographs to the "through the windshield" types, mostly.
I was amazed by how many drivers did not have their headlights on today, and in so many instances we didn't see them until the very last minute. So dangerous! Please don't do that when you're driving in winter storms.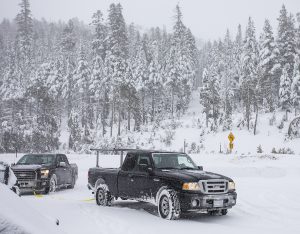 On our way up the hill, we noticed one truck ahead of us that was fishtailing quite a bit. It just so happened they pulled into a relatively-recently-plowed parking lot that we planned to turn around in. We noticed that they found themselves stuck and spinning their wheels almost immediately, so we decided to try to help. Apparently their 4-Wheel-Drive went out on the way up the hill. Jeremy offered to try to tow them out, but turns out when we tried that, we also lost our traction. So instead, Jeremy lent them half of our chains (we had four) so that they could get enough traction to get out and get to their final destination (we overheard something about reservations, so I think they were trying to get over the hill or something). He gave them his business card and asked them to return the chains when they were done with them.
While Jeremy helped them out, I walked around and took some photos.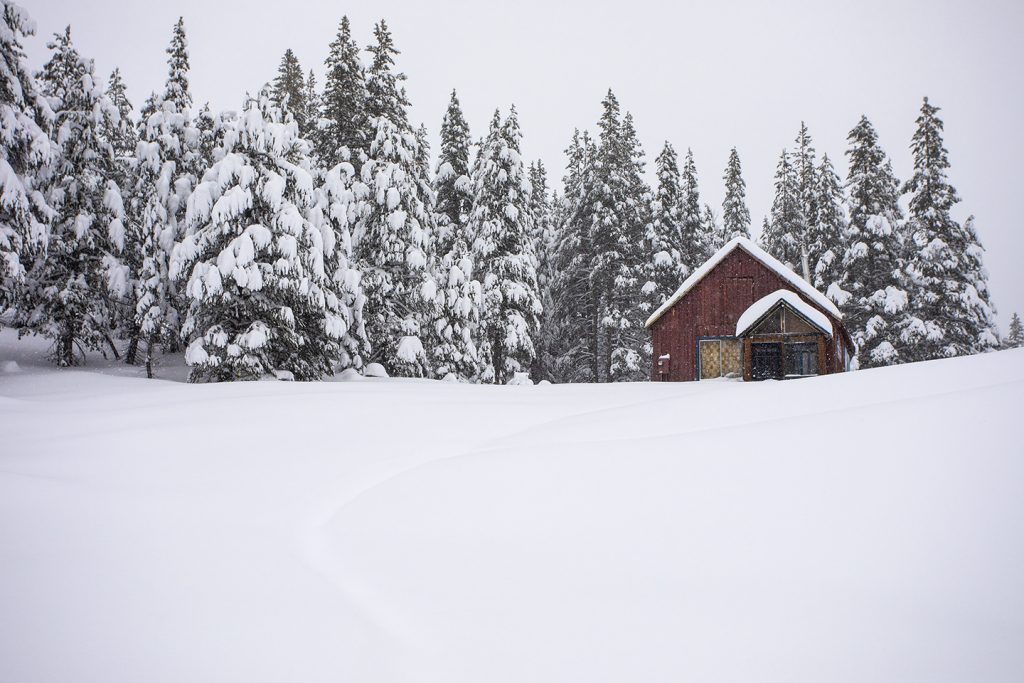 After we made sure they had gotten out of the parking lot ok, we hung a left and headed back down the hill to try to find a good place to snowshoe. And lucky us, we did!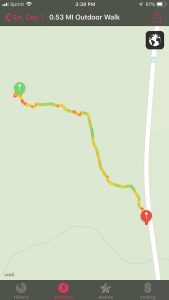 We trudged our way up the hill for quite a while. I forgot to turn my tracker on before we started our trek, but I remembered to do so before we turned to head back to the truck, so I had a pretty good record of half the hike. We figure, in comparing my hiking app to a topographical map of that area, that we went a smidge over a mile round-trip, and climbed about 240 feet in elevation (and of course descended the same). Not too bad for two old out-of-shape overweight photographers on their first snowshoe hike of the season. ha!
When we hit the point where we wanted to turn back, Jeremy took a selfie of us with his new phone.
Once we got back to the truck and began to make our way down the hill with the thoughts of hot chocolate spurring us on, we couldn't resist stopping for some photos along the way. I think Jeremy even has some drone panos he might post later tonight.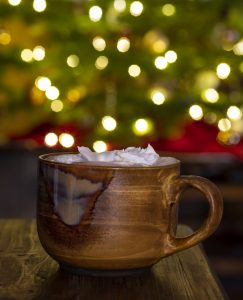 Eventually, we did make it back home for that hot chocolate.
And as for the people we lent our chains to? Turns out we got them back more quickly than we thought!
We got a call from them while we were boiling the water for the cocoa. The road got too sketchy for them and they ended up turning back. What a shame for their weekend. But now we have all 4 chains back, and no excuse not to go on the next mountain adventure. See you then!